Here's some recommendations for otome games to try playing/reading! These are just games that I've personally enjoyed. I can't exactly claim to have the most refined taste, but I hope others could find as much enjoyment in these as I have! I'll be separating the titles that've been localised/fantranslated and the ones that have not been translated into English. I'll list ones available in English first since those are probably the ones more easily accessible to most of this site's readers.
Console and PC otome games only.
English Language Otome!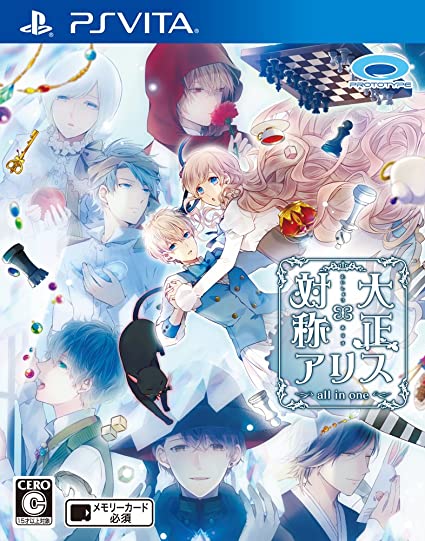 Title: Taisho x Alice
Type: Visual Novel
Platform: Windows (English, JP), Vita, Switch (JP only)
Translation: Official localisation. No problems with it.
Description/Opinion:
One of my favorite otome game series. If you're looking for a great (and somewhat dark) story with a fun, interesting, and proactive protagonist, you're looking in the right place. Written by the writer generally considered to be the best in the otome game scene. It starts a bit slow but cute with episode 1, but things really get very exciting in episode 2 (my favorite episode). I honestly cannot recommend this series highly enough. If you're okay with darker subjects please play it. You can either start with episode 1, or jump straight into episode 2 where things get good, it doesn't matter which of those two you start with. Definitely play all of both 1 and 2 before playing episode 3 though (the localisation of 3 isn't out yet anyway).

VNDB Link
Steam: Episode 1, Episode 2
Title: Code:Realize
Type: Visual Novel
Platform: Vita, PS4, Switch(JP only)
Translation: Official localisation, few errors but mostly good.
Description/Opinion:
A neat steampunk game set in an alternate history Britain (mostly around London). It has a pretty interesting story and all of the boys are likeable. A really cute and decently tough protagonist.

VNDB Link
Title: Collar x Malice
Type: Visual Novel
Platform: Vita
Translation: Official localisation, quality is pretty dodgy. A very noticeable amount of translation errors, grammar mistakes, and typos.
Description/Opinion:
Interesting crime drama set in Shinjuku, Japan. The Protagonist is a police officer and she ends up involved with a freelance detective agency to solve a certain crime case. The mysteries are decently neat I thought. Most of the main boys are likeable(Takeru kinda got on my nerves though) and the side characters are cool too. Pretty cute and capable protagonist.

VNDB Link
Title: Bad Apple Wars
Type: Visual Novel
Platform: Vita
Translation: Official localisation, unsure of the quality since I played the original JP version.
Description/Opinion:
Angel Beats but it's an otome game. Okay maybe the game isn't necessarily that great or anything but I enjoyed it and I really love Shikishima. The other boys are nice enough, and it has some fun side characters. If you want to hear some crazy Sugita voice acting then the side character he voices is great for that. The protagonist is cute but nothing special.

VNDB Link
Title: Dot Kareshi
Type: Visual Novel
Platform: Windows PC
Translation: Fan-translation, unsure of quality for same reason as game above.
Description/Opinion:
A load of great dumb fun. A three part series of short comedic games. Protagonist gets isekai'd to the world of the RPG she had played when she was a kid. Having been a dumb kid she played it in a very weird round-about way. With the savegame being left messed up like that to fester, the game characters personalities/behaviors started to become twisted. The evil lord who's lost his back-bone and become a wimp with an inferiority complex who still attempts to act tough voiced by Sugita is the best boy. There's no continuing story between the games so just pick whichever has the most interesting characters to you. The protagonist is faceless and only talks in the Wingdings font.

VNDB Link
Japanese Language Otome!
Title: Angelique
Type: Stat raiser(?) (Tenkuu no Requiem = turn-based RPG)
Platform: Far too many it'll take too much space to name them all. Check out VNDB link for them all.
Description/Opinion:
I love this game series to death. I would die for it, and every character in it. The first otome games, born out of Koei's co-founder's desire for women to have a greater presence in the Japanese video game development industry, and for there to be more games for girls/women. Despite being the first otome games and having been very popular in their day, there's no other games quite like them.
Reasons to play:
pixel retro game aesthetic, 90s shoujo manga aesthetic, amazing cast of veteran voice actors(Hayami Sho(heavy breathing), Shiozawa Kaneto(heavy sobbing)), anime cutscenes, GAMEPLAY(especially Tenkuu), really loveable characters, it's just amazing okay please play them I'm genuinely begging you.

There's so much more I want to say but I need to keep this brief. I'll save the rest for the shrines.

Main series VNDB links: one, two, three, four, five
Title: Kin'iro no Corda 3, AnotherSky, 4(although i havent played 4 just yet but im getting to it)
Type: Stat raiser(?), Rhythm game
Platform: PS2, PSP, 3DS, Vita
Description/Opinion:
Shounen sports manga/anime but it's an otome game about orchestra clubs. Actually said by Ruby Party that one of the inspirations was shounen manga. Full of lots of hot-blooded youth, friendship, competitive spirit, rivalry, all that good sports manga stuff. All of the teams/clubs have a unique dynamic and appeal to them and they're all great. Beautiful classical music recorded from live instruments. Some of the most loveable characters in any otome game I've played, I would die for most of them especially Kyouya and Myouga and I want to adopt every member of Shiseikan's club as my sons. The protagonist's face isn't shown much but her name is Kanade and she's precious and I love her with all my heart. Please play this game.

VNDB Links: Corda 3, AnotherSky, Corda 4
Title: Harukanaru Toki no Naka de 3
Type: RPG
Platform: PS2, PSP, Vita
Description/Opinion: (worth noting the version I played was Ultimate)
A story about a normal teenage highschool girl suddenly sent back in time(?) to an alternate mythical Heian period Japan right in the midst of the Genpei War. I absolutely adored the game. It's currently my favorite Haruka game I've played. I loved all the main characters and their stories. I even loved a bunch of the side characters too. The protagonist, Nozomi, is one of my two favorite otome game protagonists of all time. I don't want to spoil anything, but the game system and how you go about getting different endings is very interesting, it offered a level of difficulty I wasn't expecting. The version I played had so much content I felt spoiled with how much it was giving me. The more I think back on my time playing it the more I realise what a 神ゲー it was.
Please play Haruka 3.

VNDB Link