Hello!
Welcome to my internet webspace! I'm Miki and I'm the webmistress of this little corner of the World Wide Web.

This website was made on a 1920x1080 computer monitor and is made to be viewed on PC monitors. It is not mobile friendly.

The main thing I'm using this netspace for right now is just a place to write about my interests. What are my interests you may ask? I'll tell you! The first and foremost of my interests is otome games! I love 2D joseimuke media. I also watch anime sometimes.

I'm particularly obsessed with the Neoromance games and they have consumed my life.

Also if you couldn't tell, the background and color palette of this site is loosely themed after my husband, Clavis.


Leave a message in my guestbook!

Look here it's a button that you could put on your site to link to mine if you want!




I try to add people's buttons to my links page as much as possible. If you've added mine and I've missed yours for some reason, let me know!
Updates!
2020/07/30 -
home - removed other social media presences box. moved discord contact where email is. removed 1st year anniversary message.
links - added linkback buttons.
about - changed writing in about me section. cleaned other favorites section.
2020/07/28 -
new journal entry
2020/07/24 -
home - updated boxes to the right
2020/07/21 -
links - new linkbacks
about - added a section in favorites for my favorite nijisanjis
new journal entry
2020/07/10 -
journal entry.
2020/05/08 -
links - removed dead websites, other general cleanup.
2020/05/07 -
fixed broken images and removed fanlistings on links page.
added new
fanlistings
page in misc.
2020/05/06 -
archived 2019 website updates
made the misc page less terribly boring
2020/05/05 -
another journal entry
2020/05/01 -
journal entry
2020/04/28 -
added new website link to links
2020/04/27 -
new journal entry
2020/04/04 -
new journal entry
site-id tcg page
added!
changed masto link to my new pleroma acc
2020/04/02 -
uhm its been a while and i forgot to keep track of what ive updated so
new journal entry
new button links on links page
new
ffxiv page
added an extra line of text in the about me section of my about page
a bunch of other little things
Updates archive
Buttons and blinkies!



























































































Listings & Webrings!




Neocities486
Awards!
From Nostalgic!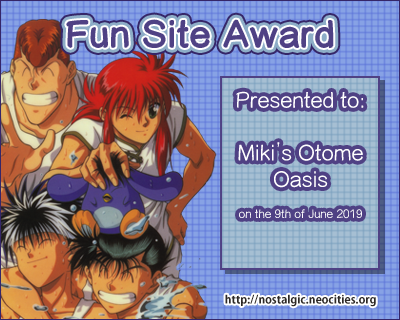 If at any reason at all you want to contact me for anything, send me an email! Don't be shy I love getting messages!
Just click on the gif below!


(or just mail to aquamiki@disroot.org)
Or add me on Discord (Miki#9790) and DM me there. If I don't recognise your username from Neocities and you don't don't let me know somehow beforehand I may not add you back though.

Member of the Internet Exchange
---
Disclaimer:
none of the graphics/images aside from my own website button were made by me. If any of the original creators are not pleased with them being used on my website, let me know and I will remove them.
For a page of credits for graphics displayed on the site, click here!